September 11, 2021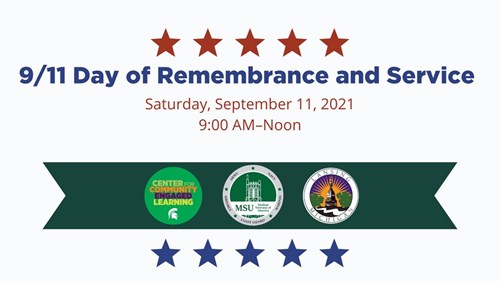 Who: Any MSU student can participate – register at: https://msu.co1.qualtrics.com/jfe/form/SV_cNGYL2vmx0ZnUk6.
When and Where: September 11, 2021, from 9 AM-12 PM. Participants should arrive to the Sycamore Driving Range near Mt. Hope Cemetery at 8:30 AM for sign in and detailed instructions. The Sycamore Driving Range is located at 1526 E Mt Hope Ave, Lansing, MI 48910. After given direction at The Sycamore Golf Course, students will disperse to the North Lansing Cemetery, Mount Hope Cemetery, and Evergreen Lansing to begin volunteering.
What: Participants in this project will be split into partners spread across the 3 cemeteries to honor fallen veterans by identifying their headstones. Identifying headstones as US veterans will allow them to easier place a United States flag for their honor in a later project. As well as this, participants are expected to do a light cleaning of headstones and the veteran-designated areas of cemeteries by picking up trash and unwanted items.
*Students participants are expected and urged to follow social distancing protocols. Although the service learning occurs outside, students are recommended to remain 6+ feet apart, remain masked, and sanitize, as necessary. Plastic gloves will be provided upon arrival.*
Please email any questions to Abigail Machesky, at: machesk5@msu.edu.