---
Contact: Emily Springer, Communication Manager, Communication and Information Technology, University Outreach and Engagement, sprin116@msu.edu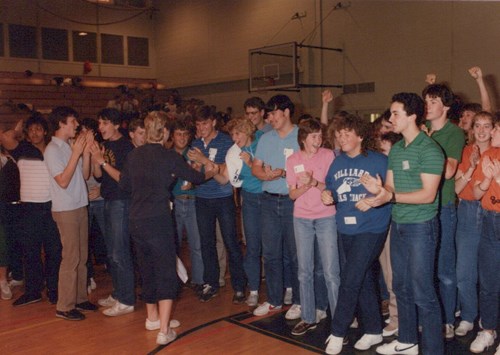 EAST LANSING, Mich. – The Science Olympiad National Tournament, the preeminent STEM competition that welcomes teams of students in Grades 6-12 from all over the country, will take place at Michigan State University for its 40th year.
The Science Olympiad organization announced on March 27 that it accepted MSU's bid scheduled for May 24-25, 2024.
Science Olympiad is a national nonprofit whose goal is to increase K-12 student and teacher participation in the disciplines of science, technology, engineering and mathematics. The organization is dedicated to improving and enhancing the quality of science education, increasing opportunity and diversity in science, creating a technologically literate workforce and providing recognition for outstanding achievement by both students and teachers.
The 40th annual event is significant for both organizations, as MSU hosted the very first annual Science Olympiad National Tournament in May 1985.
"As the founding university host for the Science Olympiad National Tournament, I am excited that we will once again welcome the science leaders of the future," said MSU Interim President Teresa K. Woodruff, Ph.D. "I have every confidence in the Science Olympiad organization, as well as our team here at MSU, to make the event a success at the site of its origins in East Lansing."
"It will be wonderful to revisit MSU's campus, which successfully held the inaugural Science Olympiad National Tournament four decades ago," said Science Olympiad CEO Jennifer Kopach. "We are proud to recognize MSU as a true partner in our mission of enhancing science education and developing the STEM workforce."
The tournament includes a full day of events that test learning, lab and building skills on the spot. Teams made up of 15 students compete in topics surrounding: life, personal and social science; earth and space science; physical science and chemistry; technology and engineering; and inquiry and nature of science.
Rob Halgren, academic specialist in MSU's University Outreach and Engagement and site coordinator for Michigan's statewide tournament, said he looks forward to working with the Science Olympiad organization, as well as Michigan Science Olympiad Director Paul Voydanoff, to plan campus activities and tours, tournament schedules, keynote speakers and more.
"We're excited to welcome and introduce some of the brightest students from all over the country to MSU to learn more about the STEM fields, showcase their knowledge on a national platform and see all that MSU has to offer," Halgren said.
Quick facts about the first Science Olympiad National Tournament, hosted on MSU's campus in 1985
The first Science Olympiad National Tournament welcomed participants from 18 states. There were 21 schools competing in Division I and 26 competing in Division II.

Michigan schools were top contenders:

Division I (now called Division B)

First place:

Slauson Middle School, Ann Arbor

Second place:

Shelby Junior High School, Utica

Third place:

Forest Hills Central Middle School, Grand Rapids

Division II (now called Division C)

First place:

Seaholm High School, Birmingham

Second place:

Athens High School, Troy

The first Science Olympiad was run almost entirely by volunteers, a trend that continues today.