---
Contact: Emily Springer, Communication Manager, Communication and Information Technology, University Outreach and Engagement, sprin116@msu.edu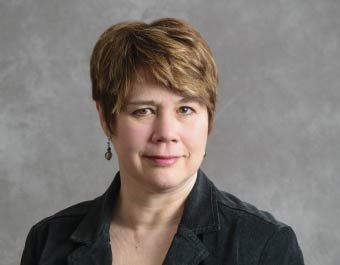 EAST LANSING, MI — Laurie Van Egeren, assistant provost for university-community partnerships at Michigan State University, has accepted the position of vice provost for public engagement at the University of Minnesota. She will begin her new role in October 2023.
Van Egeren has been with MSU for 30 years, 23 of which were in the Office of University Outreach and Engagement (UOE). She served as interim associate provost for UOE from July 2018 - December 2022.
In a message to leadership regarding Van Egeren's transition, Thomas Jeitschko, interim provost and executive vice president for academic affairs, noted how during Van Egeren's time as interim associate provost, "she made a positive impact across a broad range of areas at the university, expanding the scope and reach of UOE's work and its support of faculty, staff, and students."
In 2021, Van Egeren became the first woman to be named president of the Engagement Scholarship Consortium (ESC), an organization composed of higher education member institutions working to build strong university-community partnerships anchored in scholarship.
Additionally, Van Egeren has conducted engaged research funded by the National Science Foundation, National Institutes of Health, state government, and various foundations on topics surrounding state evaluations of after-school programs and child care consultation programs; early childhood science education; youth-driven spaces; parent programs for children diagnosed with autism; and programs to increase science, technology, engineering, and math (STEM) college entry among African-American students. She received both her Ph.D. in developmental psychology and an M.A. in child/family psychology from MSU.
She serves on the steering committee for Advancing Research Impacts in Society and on the executive council of the Association of Public and Land-Grant Universities Commission on Economic and Community Engagement.
Kwesi Brookins, vice provost for UOE, praised Van Egeren's accomplishments, "During her time in leadership, she faced many challenges, from pandemics to changes in university leadership – but by all accounts, she has steered the ship exceptionally well. We are very fortunate to be able to continue to benefit from her leadership at another Big Ten university, and through her role as president of the ESC. The University of Minnesota is highly fortunate to have her assuming the role of vice provost," Brookins said.
Van Egeren described her decision as bittersweet, "My colleagues in this office and across the institution, as well as our local community, have been part of my everyday life for the majority of my lifetime," she said. "While I am looking forward to new adventures in one of the top two institutions for engaged scholarship, I'm going to miss everyone at MSU dearly."