February 16, 2022
---
Contact: Emily Springer, Communication Manager, Communication and Information Technology, University Outreach and Engagement, sprin116@msu.edu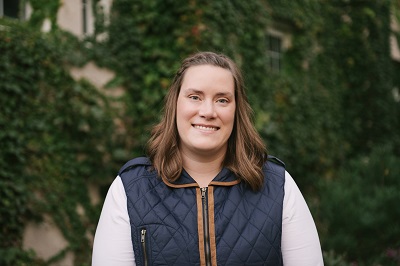 EAST LANSING, MI: Trina Van Schyndel, a doctoral student in the Higher, Adult, and Lifelong Education program at Michigan State, recently received a highly competitive fellowship from Advancing Research Impact in Society (ARIS), which is funded by the National Science Foundation (NSF). Her proposed project revolves around culture change within the development of interdisciplinary research teams who are seeking to include community-engaged scholars working in the arts, design, and humanities.
Van Schyndel is working with Imagining America consortium's Leading and Learning Initiative (LLI), which promotes cultural organization and campus change by providing tools to shift culture in higher education. Through her research, she plans to develop a toolkit focusing on resources to better understand and collaborate with individuals who identify as community-engaged scholars.
Topics may include disciplinary framings and language used by community-engaged scholars in arts, design, and humanities fields, including methodologies of and approaches to community-engaged research and creative activities; concerns and challenges faced by scholars doing community-engaged scholarship; and recommendations for collegial support and inclusion of community-engaged scholars. She plans to host the toolkit on both Imagining America and ARIS' websites.
Laurie Van Egeren, interim associate provost for University Outreach and Engagement (UOE), said, "Van Schyndel's research will set a new precedent for scholars doing community-engaged work in arts, design, and humanities. Providing a resource that links scholars and community experts has the potential to yield impressive results. We're thrilled to watch this project amplify community-engaged disciplinary work."
Van Schyndel's interest in this project stems from her own experiences learning, working, researching, and teaching across disciplinary and community-university boundaries, as well as supporting other individuals and organizations with similar values, interests, and goals. She is currently a participant in the MSU Graduate Certification in Community Engagement program, which prepares students for academic and professional careers that integrate scholarship with community-engagement.
"She is a regular presenter at the International Association for Research on Service-Learning and Community Engagement and the Engagement Scholarship Consortium Conference," said Diane Doberneck, director for faculty and professional development with UOE's Office for Public Engagement and Scholarship. "Her scholarship has been published in the Journal of Community Engagement and Higher Education, Journal of Higher Education Outreach and Engagement, and the Engaged Scholar Journal."
In her current professional role as membership director for Imagining America, Van Schyndel works with community-engaged scholars from the arts, design, and humanities, which has inspired her to focus on how to best support these individuals and the interdisciplinary teams that seek to collaborate with them.
About ARIS
NSF is one of the largest funders of science in the U.S. Each proposal submitted to NSF is evaluated on two criteria: The intellectual merit, or science, and its broader impacts, or benefit to society. To underscore the importance of the broader impacts of research criterion, the NSF awarded a $5.2 million grant in 2018 to fund ARIS. The ARIS Center, housed at the University of Missouri, works with scientists and engagement practitioners to build capacity, advance scholarship, grow partnerships, and provide resources to help these partners engage with and demonstrate the impact of research in their communities and society. Institutional partners include Michigan State University and nine other universities.