This virtual speaker series focuses on community-engaged research theory and practice that pursues the dismantling of structures of oppression and addresses issues of diversity, equity, inclusion, and justice. Leading scholars and practitioners will share how they advance the cause of social justice through their community-engaged research and pose critical questions for us to improve our own scholarship and practice.
---
The Dynamics and Influence Trust and Power Have in Community-Academic Partnerships
Monday, November 20, 2023
1:00-2:00 PM
Location: Zoom
The community-based participatory research approach has been positioned as anti-racist, in part, because it centralizes lived experience and research democratization. Researchers and community partners lean into the philosophy, while practice is a time-intensive progression with real-world implications. Since each partnership and community context is unique, attention to cultures and the omnipresent dynamics of trust and power are essential throughout partnership development and research processes. This presentation will focus on the influence of culture, trust, and power in community and academic partnerships to include dynamic gradations, trust levels, and trust types.
Speaker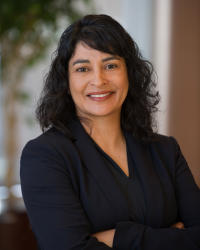 Julie E. Lucero, Ph.D., MPH
Associate Professor, Department of Health and Kinesiology
Associate Dean for Equity, Diversity, and Inclusion, College of Health
University of Utah
Using a community-engaged research orientation, Dr. Lucero strives to achieve health equity by means of education, research, and policy development. Through the identification of social, commercial, and political determinants of health, community-academic partnerships are well positioned to achieve health equity.