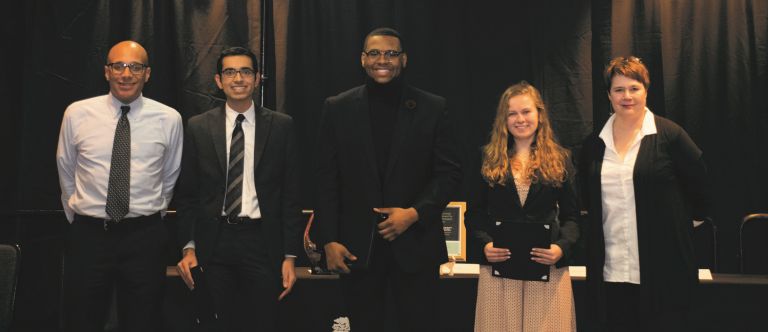 In recognition of its 50th year anniversary, the Center for Community Engaged Learning introduced its newest and most prestigious annual award, the Michigan State University Spartan Volunteer Service Award: A Presidential Recognition.
The award was presented on behalf of the MSU President and aimed to give recognition to any MSU student who participated in 100 or more hours of verified community-engaged learning or volunteering during 2017-2018.
The recipients were presented this award at the Dr. Martin Luther King Jr. Commemorative Celebration on January 18, 2019.
2017-2018 Spartan Volunteer Service Award Recipients

| Name | Hours |
| --- | --- |
| Sujit Bajaj | 500 |
| Samantha Paige Perovski | 492 |
| Brooklyn Rue | 436 |
| Malik Amir Lee Mix | 400 |
| Lauren Marie Caramagno | 400 |
| Reshma Hitesh Parikh | 346 |
| Sameed Ahmed Khan | 340 |
| Becca Morse | 312 |
| Selena Isabella Tiberio | 303 |
| Amanda Elizabeth Aubin | 287 |
| Kevin Pezeshkian | 256 |
| Brianne Rose Feldpausch | 252 |
| Andrea Vega | 250 |
| Keri Masserant | 250 |
| Jazmyn Rajae-Varie Bradford | 233 |
| Sophia Bacarella | 221 |
| Noah Batcha | 216 |
| Justice Bass | 214 |
| Sunny Xia | 205 |
| Beth Dziedzic | 200 |
| Becca Morse | 200 |
| Kb Wellington Maximilli Stallworth | 200 |
| Regina Marie Deloach | 200 |
| Amayz Love-Kezia Smith | 200 |
| Jinxi Dam | 200 |
| Maison Francis Deaner | 200 |
| Kyle Williams Polidori | 200 |
| Anooj Aniruddha Arkatkar | 200 |
| Brandon Crawford | 200 |
| Brianne Rose Feldpausch | 200 |
| Madeline Adaire Vaneck | 200 |
| Joseph Hrabnicky | 200 |
| Xue Lin Wang | 195 |
| Sarah Ann Caplan | 188 |
| Haneen Mansour | 180 |
| Taylor Pittman | 180 |
| Katie Lynn Townsend | 178 |
| Maggie Collins | 175 |
| Jyoti Prasad | 174 |
| Renee Hanna | 174 |
| Kaitlyn Marie Kramer | 168 |
| Alexis Frederick | 165 |
| Darneisha Hill | 164 |
| Selena Huapilla-Perez | 160 |
| Brittany Morgan Ladson | 160 |
| Elizabeth Marie Paulson | 160 |
| Nandan Kodur | 154 |
| Alanna de Sibour | 154 |
| Lamont Cedric Davis | 150 |
| Yamani Rikia Vinson | 147 |
| Jessica Yen | 145 |
| Riti R Singh | 142 |
| Marissa Lee Volek | 142 |
| Kelsey Kaczor | 141 |
| Nathan Bradley Seamans | 140 |
| Julia Li-Li Tu | 140 |
| Madison Elizabeth Patrus | 139 |
| Gabriella Rose Boisineau | 135 |
| Jake Hoofman | 132 |
| Hailey Katulski | 131 |
| Rona Lan Wu | 127 |
| John Patrick Witherspoon | 126 |
| Elizabeth Ann Murray | 125 |
| Alison Rose Cronander | 122 |
| Abby Johnson | 121 |
| Greta Nameti | 120 |
| Kevin James Lesser | 120 |
| Nikki Bhangu | 120 |
| Jinxi Dam | 118 |
| Alexa Noel Magsoudi | 116 |
| Lauren Elizabeth Powell | 115 |
| Sierra Marlene Alvarado | 113 |
| Kailinn Morgan Michelle Hairston | 113 |
| Duke Augustin | 112 |
| Devin Humphreys | 112 |
| Mikaela Nicole Czupski | 108 |
| Jay Fattesinh Parmar | 108 |
| Ashish Nath Tripathi | 107 |
| Ashley Jeanette Berry | 107 |
| Garrett William Amstutz | 104 |
| Billy Wetzel | 104 |
| Allie Kaminske | 104 |
| Carrie Elaine Hirsch | 103 |
| Talyce Murray | 103 |
| Allison Rose Kowalski | 102 |
| Allyssa Gail Grayson | 101 |
| Claire Anna Johnston | 101 |
| Tiffanie Kiara Quinn | 100 |
| Anna Howey | 100 |
| Brittany Ladson | 100 |
| Monica Ward | 100 |